Expat rent prices
2022 Worldwide city ranking

---
Ranking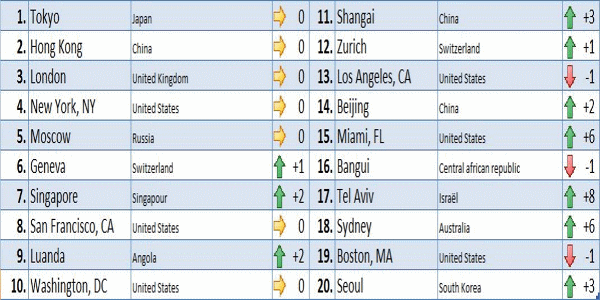 EuroCost International publishes its new worldwide ranking of rents paid by expats.
Although expat housing conditions can vary a lot from one country to another, EuroCost International publishes a yearly worldwide ranking based on a specific type of housing.
This ranking is based on a panel of two- and three-bedroom flats (average prices converted into euros, reference date December 2021).
Nota bene:
This ranking does not take into account the consequences of recent events in Ukraine.
Key points
---
Despite the pandemic, the top 20 ranking of the most expensive cities in the world remains stable. Unsurprisingly, the 5 cities at the top of the ranking remain unchanged, with Tokyo still leading.
Beirut unscrews and come out of the top 20.

The median rent of our panel increases by 3.7% to 1671€.
Seoul, Sydney, Tel Aviv and Miami join the top 20.
The most expensive cities in the world
---
After suffering the shock of the pandemic in 2020, the level of rent for homes usually occupied by expatriates around the world has settled into expectation in the face of the continuity of the pandemic. As a result, the ranking remained relatively stable in 2021 and the top of the ranking remained unchanged. Not only does this rental market seem to have absorbed the backlash of the Covid, but it is picking up a bit of dynamism in several places. This translates into an increase in the median rent of our overall panel, which increased by +3,7% in 2021. It thus rose from 1,612 euros to 1,671 euros.
Renting a two- or three-bedroom apartment can be particularly expensive for an expat. It is always in Tokyo that the rents for this type of dwelling are the highest.
As last year, Hong Kong, London, New York and Moscow are with Tokyo at the top of this ranking and confirm their positions.
Moscow is again in the top 5. Like last year, high-quality housing left vacant was in high demand from the well-to-do local population. As a result, these high-end homes have seen their rents increase or at least remain, unlike other cities which have not benefited from this local demand.
Beirut regularly in our top 10 since 2010 has completely unscrewed and is out of the top 20. The political situation, the exchange problems, the closure of many activities and the defensive behaviour of investors have put Lebanon in a situation that can be described as dramatic. These elements undermined the Beirut rental market, which recorded a sharp decline.
Geneva (+1) and Singapore (+2) have regularly appeared in the top 10. They are now in 6th ans 7th position.
San Francisco retains its 8th place as well as Washington which confirms its 10th position while Luanda gains 2 places and comes in 9th place.
At the top of the second part of the top 20, we find the first Chinese city in this ranking, Shanghai which gains 3 places followed in 12th place by Zurich which loses 1 place.
Los Angeles loses 1 place and takes the 13th position while Beijing gains 2 places and takes 14th place.
Miami in 15th position joins the top 20 it left in 2020 followed by Bangui in 16th place.
Tel Aviv and Sydney have risen well in the standings and are at the bottom of the pack, taking in 17th and 18th place respectively, while Boston and Seoul close this top 20 in 19th and 20th position.
Regional highlights
---
Africa
---
| | |
| --- | --- |
| 1. Luanda | |
| 2. Bangui | |
| 3. Juba | |
| 4. Accra | |
| 5. Lagos | |

Africa remains underrepresented in the world ranking of the most expensive cities but, in many African countries, expats prefer to opt for a villa rather than a flat. That is why several countries do not appear in this flat ranking whereas housing costs may be very high for expats.

Already mentioned in the world top 20, we find Luanda and Bangui at the top of this regional ranking.

Juba and Accra keep their positions and take the 3rd and 4th position while Kinshasa loses 5 places in the ranking.

Lagos gains 2 places and is now in 5th position.
The Americas
---
| | |
| --- | --- |
| 1. New York, NY | 6. Boston, MA |
| 2. San Francisco, CA | 7. Chicago, IL |
| 3. Washington, DC | 8. Mexico City |
| 4. Los Angeles, CA | 9. Dallas, TX |
| 5. Miami, FL | 10. Philadelphia, PA |

The North American continent is now only represented by six cities in the top 20, but it trusts the top 10 places in the regional ranking.

It should be noted that these cities are mainly large cities in the United States (New York, San Francisco, Washington, Los Angeles, Miami, Boston, Chicago, Dallas and Philadelphia).

Mexico City has lost 3 places, and is now in 8th position. It must be remembered that its progression in 2020 had been the result of a mechanical effect due to the decline in other cities following the pandemic.

Dallas joins this top 10 while Vancouver is now out of this ranking.

Philadelphia closes again this American top 10.
Asia-Oceania
---
| | |
| --- | --- |
| 1. Tokyo | 6. Sydney |
| 2. Hong Kong | 7. Seoul |
| 3. Singapore | 8. Taipei |
| 4. Shangai | 9. Manila |
| 5. Beijing | 10. Mumbai |

Few changes in this regional ranking, which includes nine of the ten cities from last year.

Like last year, Tokyo remains the most expensive city in the area, ahead of Hong Kong, Singapore, Shanghai and Beijing.

Sydney gains one place and ahead of Seoul which loses one.

Taipei joins this top 10 while Jakarta is out of.

Manila and Mumbai close this ranking with the 9th and 10th positions.
Europe
---
| | |
| --- | --- |
| 1. London | 6. Amsterdam |
| 2. Moscow | 7. Paris |
| 3. Geneva | 8. Kiev |
| 4. Zurich | 9. Dublin |
| 5. Lausanne | 10. Copenhagen |

This European regional ranking is almost identical to that of last year. London still takes first place, followed by Moscow, Geneva, Zurich and Amsterdam.

Then comes Lausanne in 5th position followed by Amsterdam in 6th place. Paris in 7th position loses 1 place before Kiev in 8th.

Dublin and Copenhagen close this ranking with the 9th and 10th positions.
Middle East
---
| | |
| --- | --- |
| 1. Tel Aviv | |
| 2. Beirut | |
| 3. Doha | |
| 4. Jerusalem | |
| 5. Riyadh | |

This year, the Middle East is represented in our top 20 by only one city, Tel Aviv. It replaces Beirut, which has completely slipped in the world ranking, but which remains in 2nd position in the Middle East ranking.

Next comes in 3rd place Doha (thirty-one worldwide), followed in 4th place by Jerusalem (52th worldwide) and in 5th Riyadh (53th worldwide).
Our methodology: specific expat surveys

EuroCost International data reflect the local rental market for expats, and therefore differ from the local rental market, in terms of price levels as well as movements.
Areas selected for our surveys are residential areas frequented by expats.
We collect prices for different types of housing, from studios to large detached houses, but these can be adapted to the specific features of each country. In a country where all expats live in houses, our survey will only report house prices.
All dwellings considered range from good to very good quality to ensure that expats benefit from comfortable living conditions.

Prices are collected in the currency used for the payment of rent (very often US dollars or euros, rather than the local currency).
Housing is a crucial element for expatriation; therefore many companies seriously consider their expats' living conditions.
Our rent surveys are usually provided separately from the cost of living index, in order to fully meet the needs of our customers, although rent prices can be included in our indices.