Expat rent prices
2023 Worldwide city ranking

---
Ranking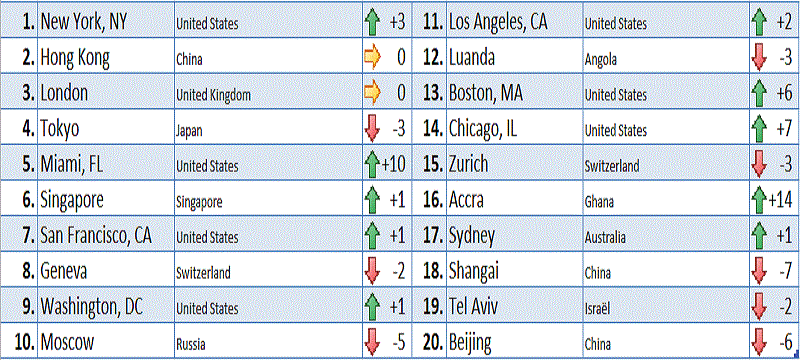 EuroCost International publishes its new worldwide ranking of rents paid by expats.
Although expat housing conditions can vary a lot from one country to another, EuroCost International publishes a yearly worldwide ranking based on a specific type of housing.
This ranking is based on a panel of two- and three-bedroom flats (average prices converted into euros, reference date December 2022).
Key points
---
New York takes the lead in our ranking thanks to a stronger dollar against the euro. Although used to being at the top of the rankings, it hasn't taken the lead for a long time.

Seoul and Bangui come out of the top 20.
Chicago and Accra join the top 20.
The median rent of our panel increases by 15% to 1924€.
A stronger dollar is, this year, one of the main causes of the movements of the cities in our ranking.
The most expensive cities in the world
---
After suffering the shock of the pandemic, the level of rent for homes usually occupied by expatriates around the world recovered and settled into a general upward trend. This trend was reinforced by the fall in the euro against the dollar, which automatically pushed up some average rents. This translates into an increase in the median rent of our overall panel, which increased by +15%, reaching 1924 euros.
It is necessary to underline the arrival of New York at the top of the podium. This hadn't happened for a very long time. This ranking is the result of two combined trends : on the one hand, as we said, by the strenghtening of the dollar against the euro since the American currency gained 8.78% between December 2021 and December 2022 and, on the other hand, by a sharp increase in rents in New York in local currency.
In 2nd and 3rd position, we find respectively Hong Kong and London which have kept their places.
Tokyo is in 4th place, followed by Miami, who has benefited from the same dynamic as New York, thus moving from 15th to 5th place.
From 6th to 8th place, we find the same trio as last year, but this time Singapore is ahead San Francico followed by Geneva.
Washington left the last place in the top 10 and moved up to 9th position. The gradual slowdown in the Moscow rental market, following the departure of many expatriates, caused the Russian capital to lose 5 places, closing this top 10.
Los Angeles gains 2 places and ends up in 11th position while Luanda loses 3 places and ends up in 12th position. Boston moves up to 13th place while Chicago enters the top 20 by placing in 14th position followed by Zurich in 15th place.
Although Accra's rental market is not flourishing, Accra paradoxically joins this top 20 propelled by the fall of the euro against the dollar and settles in 16th place.
For the last 4 places in the top 20, we find first Sydney who gains 1 place, followed by Shanghai who loses 7 positions then by Tel Aviv who loses 6. It should be noted that despite the stability of the Chinese market, Shanghai and Beijing mechanically lost places following the rise of cities having a rental market in dollars.
Regional highlights
---
Africa
---
| | |
| --- | --- |
| 1. Luanda | |
| 2. Accra | |
| 3. Bangui | |
| 4. Lagos | |
| 5. Kinshasa | |

Africa remains underrepresented in the world ranking of the most expensive cities but, in many African countries, expats prefer to opt for a villa rather than a flat. That is why several countries do not appear in this flat ranking whereas housing costs may be very high for expats.

There is no significant change in this ranking. Luanda retains first place followed by Accra, but the latter gains 14 places in the world rankings while Luanda loses 3.

Unsurprisingly, Bangui and Lagos follow. If the latter benefits from the strengthening of the dollar by gaining 7 places in the world ranking, Bangui loses 5.

Accustomed to this top 5 Kinshasa brings up the rear.
The Americas
---
| | |
| --- | --- |
| 1. New York, NY | 6. Boston, MA |
| 2. Miami, FL | 7. Chicago, IL |
| 3. San Francisco, CA | 8. Mexico City |
| 4. Washington, DC | 9. Dallas/Fort Worth, TX |
| 5. Los Angeles, CA | 10. Vancouver |

The North American continent is now only represented by seven cities in the top 20, but it trusts the top 10 places in the regional ranking.

It should be noted that these cities are mainly large cities in the United States (New York, Miami, San Francisco, Washington, Los Angeles, Boston, Chicago and Dallas/Fort Worth).

Philadelphia leaves this top 10 while Vancouver joins it again, while Mexico City keeps his 8th position.
Asia-Oceania
---
| | |
| --- | --- |
| 1. Hong Kong | 6. Beijing |
| 2. Tokyo | 7. Seoul |
| 3. Singapore | 8. Taipei |
| 4. Sydney | 9. Mumbai |
| 5. Shanghai | 10. Jakarta |

Few changes in this regional ranking where we find nine out of the ten cities in last year's ranking.

Hong Kong which is the most expensive city in the region is ahead of Tokyo, which is followed by Singapore, Sydney, Shanghai and Beijing.

Seoul remains in 7th position followed by Taipei who keeps his 8th place.

Mumbai and Jakarta close this top 10 respectively in 9th and 10th positions.
Europe
---
| | |
| --- | --- |
| 1. London | 6. Lausanne |
| 2. Geneva | 7. Dublin |
| 3. Moscow | 8. Paris |
| 4. Zurich | 9. Kiev |
| 5. Amsterdam | 10. Copenhagen |

This European regional ranking is almost identical to that of last year. We find the same 10 cities in the top 10.

London always monopolises the first place, followed by Geneva, Moscow, and Zurich.

Then comes Amsterdam in 5th place followed respectively in 6th and 7th position by Lausanne and Dublin. Paris which loses 9 places in the world ranking is in 8th place.

Kiev and Copenhagen, which have remained stable in the world rankings, once again close this European top 10 by taking 9th and 10th position respectively.
Middle East
---
| | |
| --- | --- |
| 1. Tel Aviv | |
| 2. Doha | |
| 3. Istanbul | |
| 4. Dubai | |
| 5. Beirut | |

This year again, the Middle East is represented in our world top 20 by a single city, Tel Aviv, followed by Doha which continues to climb the world rankings by gaining 5 places (twenty-sixth in the world).

Istanbul arrives at 3rd place and continues to progress clearly in the world rankings (thirty-second).

Then comes Dubai in 4th position followed by Beirut which continues to fall in the world rankings (forty-second in the world).
Our methodology: specific expat surveys

This ranking is only a particular angle of view on the rental market for expatriates. Our housing surveys, for their part, provide a much more precise view of the rental market for each city surveyed.

EuroCost International data reflect the local rental market for expats, and therefore differ from the local rental market, in terms of price levels as well as movements.
Areas selected for our surveys are residential areas frequented by expats.
We collect prices for different types of housing, from studios to large detached houses, but these can be adapted to the specific features of each country. In a country where all expats live in houses, our survey will only report house prices.
All dwellings considered range from good to very good quality to ensure that expats benefit from comfortable living conditions.

Prices are collected in the currency used for the payment of rent (very often US dollars or euros, rather than the local currency).
Housing is a crucial element for expatriation; therefore many companies seriously consider their expats' living conditions.
Our rent surveys are usually provided separately from the cost of living index, in order to fully meet the needs of our customers, although rent prices can be included in our indices.